If you've visited Canada's Niagara region on holiday, you likely stopped at some of its many tourism hotspots, wineries, distilleries, theatres, heritage sites and world-class restaurants.
But increasingly, business leaders are finding dozens of other attractions in this charming, tight-knit community in southern Ontario. Along with its rich culture and natural beauty, Niagara has emerged as one of Canada's leading centres for commercial and industrial development.
"We're seeing lots of businesses relocate to Niagara from other centres, and our retention rate is very high," said Jim Bradley, Niagara Regional Chair. "Once businesses discover Niagara, they tend to stay. We've created an economic ecosystem that makes it easy for them to thrive."
Niagara's ideal location near the United States border provides quick access to U.S., Canadian and overseas markets through an integrated network of highways, rail lines, marine transport and air travel infrastructure.
Toronto is less than 100 kilometres away, and it's easy to reach New York, Philadelphia, Boston and Chicago in just a few hours. Half of North America's population is located within a one-day drive of Niagara, making it an attractive location for companies that rely on cross-border trade.
"Niagara is a hub for economic activity," said Bradley. "We see more than $100 billion in cross-border trade pass through every year, and we have both the talent and the resources to ensure the flow of goods and services is efficient and effective."
Niagara also has a deep talent pool of highly skilled workers, with 1.86 million people located within less than 50 km. The region's long history of manufacturing ensures a large supply of skilled tradespeople, and world-class education institutions like Brock University and Niagara College provides access to ambitious new graduates who are on the leading edge of their fields.
"Innovation is in our DNA, and our employee base is one of the best in Canada," said George Spezza, director of economic development at Niagara Region. "Niagara is also a great place to live and raise a family. Our school systems are outstanding, and our urban areas have all the amenities of a large city with small-town charm."
Infrastructure investments, including a planned GO Transit station, were key selling points for the relocation of DeSantis Homes, a leading Ontario real estate developer, to Niagara. DeSantis Homes chose to move its headquarters from the Hamilton area to the new five-storey DeSantis Casablanca Corporate Centre in the Niagara community of Grimsby.
"I felt to attract additional employees in my organization, we needed to have a facility that was current, up to date with technology, and just the overall feel of the office space," said Gabriel DeSantis, president of DeSantis Homes.
"We're close to transit, and we're smack in between the Niagara Escarpment and Lake Ontario … the views here are just tremendous. It was the right place to be."
The Casablanca centre is also home to the new corporate headquarters of Salit Steel, a leading, international steel solutions company located in Niagara. There is still plenty of commercial space available in Niagara, and DeSantis is encouraging new development.
"We definitely put a huge investment over here, and we plan on staying here for a very long time," said DeSantis. "I can only hope that other developers see what we're doing, continuously challenge and push the envelope to do better."
Niagara is also a magnet for manufacturing, thanks in part to high demand for industrial space and low vacancy rates in other Ontario communities.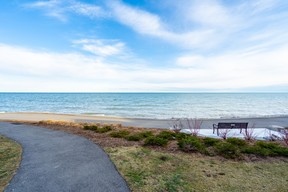 A study by CBRE Group found the availability rate for industrial space in Ontario dropped to a record low of two per cent in the third quarter of 2021, and Niagara has stepped in to help fill the gap.
"The Niagara area is ideally positioned to be able to attract those kinds of people," said Nick DiPietro, vice-president of Terra Niagara, the developer behind a new facility in Niagara Falls with 32,000 square feet of high-efficiency warehousing, distribution and light manufacturing space.
"There's tremendous potential. There's lots of opportunity," he said. "If you're trying to get away from the hustle and bustle of metropolitan areas, that's where it's at."
In addition to incentives that make doing business in Niagara affordable — including competitive labour costs and competitive taxes — Niagara Economic Development has a suite of expedited investor support services and after care that help ensure long-term success.
"We understand that business decisions must be made quickly, and we've developed expedited approval processes and other procedures that make this possible," said Spezza.
"Our team moves at the fast pace that business leaders expect, and we're in it for the long haul. We work extremely hard to ensure businesses thrive in Niagara, and we encourage anyone who is interested in relocating here to contact us. Let's start a conversation and keep it going."
Read the full article for more information. If you require any assistance please contact info@niagaracanada.com.